Best Interior Designers
You may also like:
Best Interior Design Projects by Omrania in Riyadh
The Best Interior Designers are spread all over the world. In this article, you can discover more about one of the best: Kelly Wearstler.
Kelly Wearstler is an American interior designer. She founded her design firm Kelly Wearstler Interior Design (or KWID) in the mid-1990s. Her work in the hospitality industry began her reputation in California, according to The New Yorker, Kelly was considered "the grand dame president of West Coast interior design" and "her playful and elegantly over-the-top design for the Avalon Beverly Hills changed the look of boutique hotels around the world."

As an interior designer, Kelly Wearstler finds influence in Modernism and old Hollywood glamour as created by Dorothy Draper and William Haines, and the work of architect Aldo Rossi. Her style has been described as Hollywood Regency and Maximalism and the quality in which she brings this maximalist approach to her interiors is simply brilliant. Kelly is internationally recognized with distinguished design awards and numerous publications.
Hillcrest Residence
Wearstler uses his own residence as a creative laboratory, experimenting with newly discovered antique and contemporary designs, curating a global assemblage of unique and important pieces of furniture and art collected throughout his travels. Therefore, the interiors remain true to their belief in blending styles, eras, and mediums, bringing together the stars of the past and present to create inviting, comfortable, and evocative environments.
Madison Avenue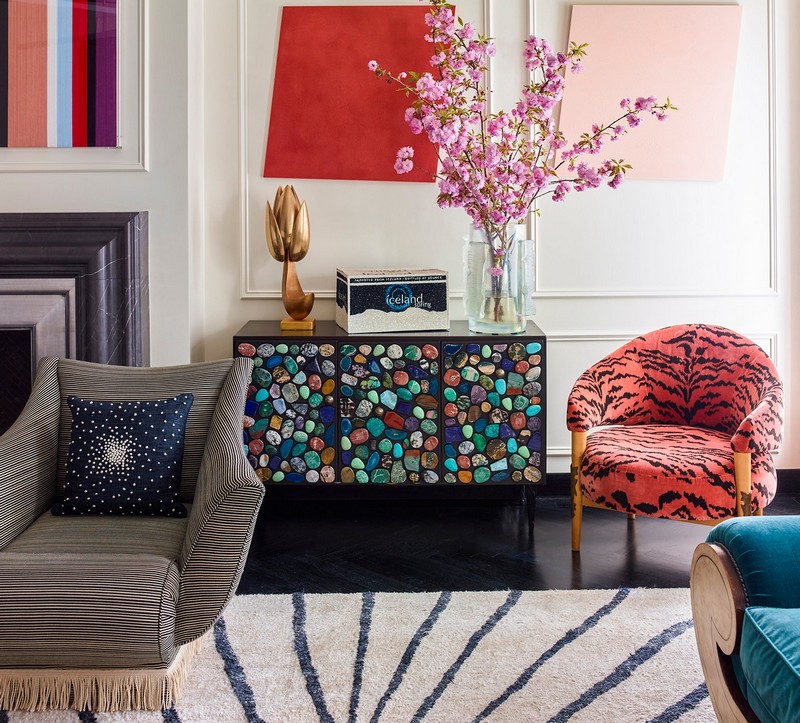 A 1901 limestone house has significant architectural heritage, evident by its monumental exterior. Kelly Wearstler infused a complete interior renovation with grand gestures and details in materials that echo the building's history. A modern sensibility weighted through an extremely sophisticated blend of styles ranging from Chinese art deco to mid-century European masters.
Santa Monica Proper
The Santa Monica Proper Hotel is a luxurious and relaxed beach destination with a sophisticated sensibility. The climate, history, and iconography of its namesake city were the inspiration for the property's design identity and inherent storytelling. Consequently, and with these aspects in mind, the design features artistic interpretations of iconic coastal elements.
Harper Avenue Residence
This Spanish-style California bungalow in the vibrant West Hollywood neighborhood offered an exceptional blank canvas for its design. As a result of a desire for a home that celebrated the clients' love of art, color, and sculpture, Kelly Wearstler created an incredibly unique stand-alone design with an infusion of contemporary and vintage art, furniture, and sculpture by established and prominent emerging artists.
You may also like:
The Best Luxury Showrooms in Jeddah, Saudi Arabia
What do you think about the Best Interior Designers: Kelly Wearstler? Comment below. Stay updated with the best news about trends, interior design tips, and furniture luxury brands through the Insplosion Blog. Follow us on Pinterest, Instagram, Facebook, Behance, and Linkedin for more inspiration!